our studio // the made new house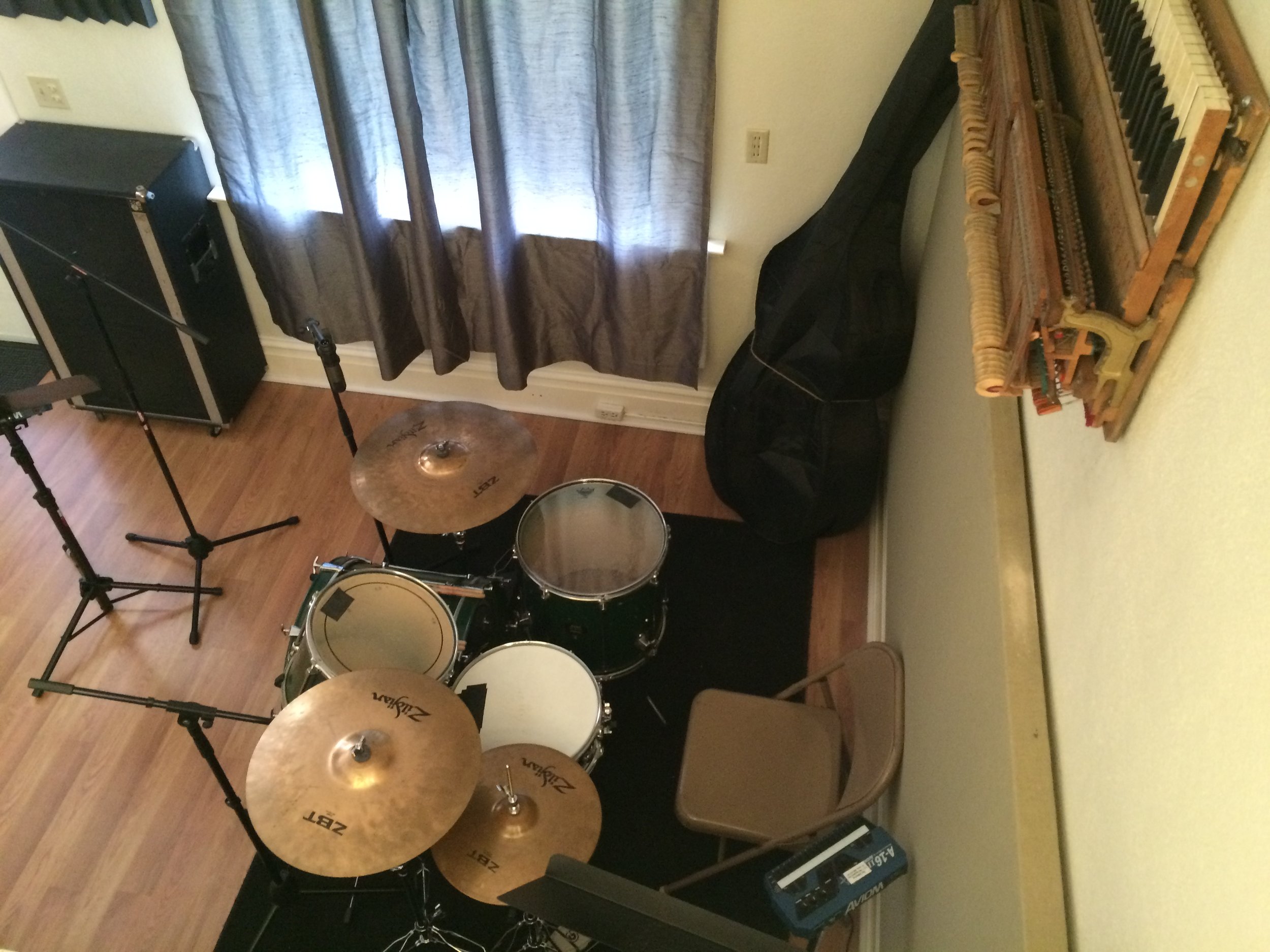 The studio at Made New Creative is available to be booked for sessions, concerts, and events. It is located in a former parsonage, adjacent to The Gathering's McCausland Site, in the Franz Park (Dogtown) neighborhood of the City of St. Louis. For inquiries and more information, please contact us and let us know how we might be able to assist you with a creative project or idea.
MADE NEW HOUSE GEAR LIST:
RECORDING CONSOLES
-ALLEN & HEATH QU-PAC
16 channel Rackmount/Desktop Digital Mixer with 16 AnalogiQ Preamps, 5 Cores of ARM Core Processing, iLive FX Engine, Touchscreen Control, Multitrack USB Recorder, dSnake Port, USB Audio Streaming, and Remote iPad Control App
-ALLEN & HEATH QU32
32-channel Digital Console with 33 Motorized Faders, Instant Recall, Parametric EQ, Touchscreen Control, 5 Cores of ARM DSP Processing, 4 Onboard FX Engines, and Integrated Multitrack USB Recorder
-ALLEN & HEATH GL2400
32-channel Live Console , 4 group, 6 aux, and LR mixes, enhanced 7x4 matrix, multi-source stereo channels, and aux-fed subs capability.
MONITORING
-JBL LSR308 8" ACTIVE STUDIO MONITORS
-ALLEN & HEATH ME-1 PERSONAL MONITORS
-AVIOM AN-16/I INPUT MODULE PERSONAL MONITOR SYSTEM -AVIOM 16-CHANNEL A-16II PERSONAL MIXERS
RECORDING
LOGIC PRO X, REAPER, CUBASE, and ABLETON LIVE 2 TRACK TASCAM SERIES 22-2 REEL TO REEL
OUTBOARD GEAR
-COMPRESSORS
ALLEN & HEATH QU/QPAC INBOARD COMPRESSION
-EFFECTS
ALLEN & HEATH QU/QPAC INBOARD EFFECTS
-EQUALIZERS
ALLEN & HEATH QU/QPAC INBOARD EQ DOD SR431 QXLR
DOD SR 866
YAMAHA GQ1031B
YAMAHA Q1027
MICROPHONES
SHURE SM7b(2)
SHURE SM58(6)
SHURE BETA 58(4)
SHURE SM57(4)
SHURE SM57 UNIDYNE III (2)
SHURE BETA52a
SHURE BETA98
SHURE MX391
ELECTROVOICE RE-20(2)
AUDIO TECHNICA AT202
AUDIO TECHNICA AT2021
AUDIX ADX-51
AUDIX D6
AKG D160
AKG D112
AKG D12
MXL 860
MXL 990
STERLING ST50
AKG D77S
CAD drum mic pack (7 mics)
CABLES
(20) 20' XLR cables
(4) 20' 1⁄4" unbalanced cables
(8) 20' Cat5 cables
(2) 6' 1⁄8" to RCA cables
(2) 8' 1⁄4" to 1⁄4" balanced snake
(2) 10' Cat5 cables
(2) 1⁄4" balanced cables
INSTRUMENTS
-GUITARS
Alvarez RD8BR Acoustic Guitar
Epiphone Les Paul Special-II Electric Guitar
Epiphone SC-350 Electric Guitar
-DRUMS
2008 Ludwig Maple Classic Drum Kit (gold glass glitter) 24, 13, 16, 18
1970 Ludwig Maple Drums (gold glass glitter) 28 kick, 14x10 snare
Tama Starclassic Performer Snare 5x14 (natural white oak) - Rogers 5x14 Snare (red sparkle maple)
2008 Tama Starclassic Performer Drum Kit (red wine) 22, 10, 12, 16
1994 Mapex Mars Series Drum Kit (green) 22, 12, 13, 13, 16, 18
-CYMBALS
Zildjian A Series Cymbals 14" New Beat HH's, 16" M. Thin Crash, 18" M. Thin Crash, 21" Sweet Ride
Zildjian Vintage Cymbals 14" A. Quick Beats HH's, 14" Mastersound HH's18" M. A. Thin Crash, 18" A. Medium Crash, 20" K Custom Ride,
22" A. Ride
-PERCUSSION
Meinl Ergo-Shaped Pedal Cajon, Bubinga - Meinl Cafe Cajon
AMPS
Hotone 5w PurpleHaze, Tube Head and Isolation Cab w/ 10" green back Jenson Crate BV120H, Tube Head
Crate GT412SL, 4x12 Cab
MOBILE RECORDING GEAR
Allen & Heath QuPac 16/32 Channel Interface/Mixer
Focusrite 8i6 USB Interface
Universal Audio Apollo Twin DUO